Fight Breast Cancer Now with Proton Therapy
Avoid Unnecessary Radiation
Reduce Damage to Vital Organs
Lower Risk of Side Effects
Only Proton Center in Middle TN
Benefits of Proton Therapy
Less radiation to the heart for left-sided breast cancer1,2
Partial breast radiation patients with good to excellent cosmetic results3
Satisfaction rating of patients who experienced Provision's Culture of Care
Proton therapy is a more precise form of radiation therapy that is an effective treatment option for many breast cancer patients. It is especially beneficial for left-sided breast cancer, as the cancer is close to critical structures like the heart, LAD (left anterior descending artery), and lungs. When treating breast cancer, proton therapy is often used in conjunction with other modalities, such as surgery and chemotherapy.
Proton Therapy for breast cancer has many compelling benefits:
Treatment is provided in an outpatient setting

Little to no impact on patient's energy level

Minimal downtime during treatment

Reduced risk of side effects, including heart disease, especially for left-side breast cancer6
Compare Your Treatment Options
We believe the quality of your life during and after treatment matters. That's why it's important to be your own health advocate and understand all of your treatment options, as well as the possible side effects of each.
Make Protons Part of Your Plan
It is common for a breast cancer treatment plan to include multiple methods of treatment. Depending on the specific diagnosis, doctors may recommend a variety of treatment options, including surgery, chemotherapy, and radiation therapy. These modalities are often used in conjunction with one another.
When radiation is recommended as part of your treatment plan, patients should consider the remarkable outcomes and advantages proton therapy offers compared to traditional x-ray radiation.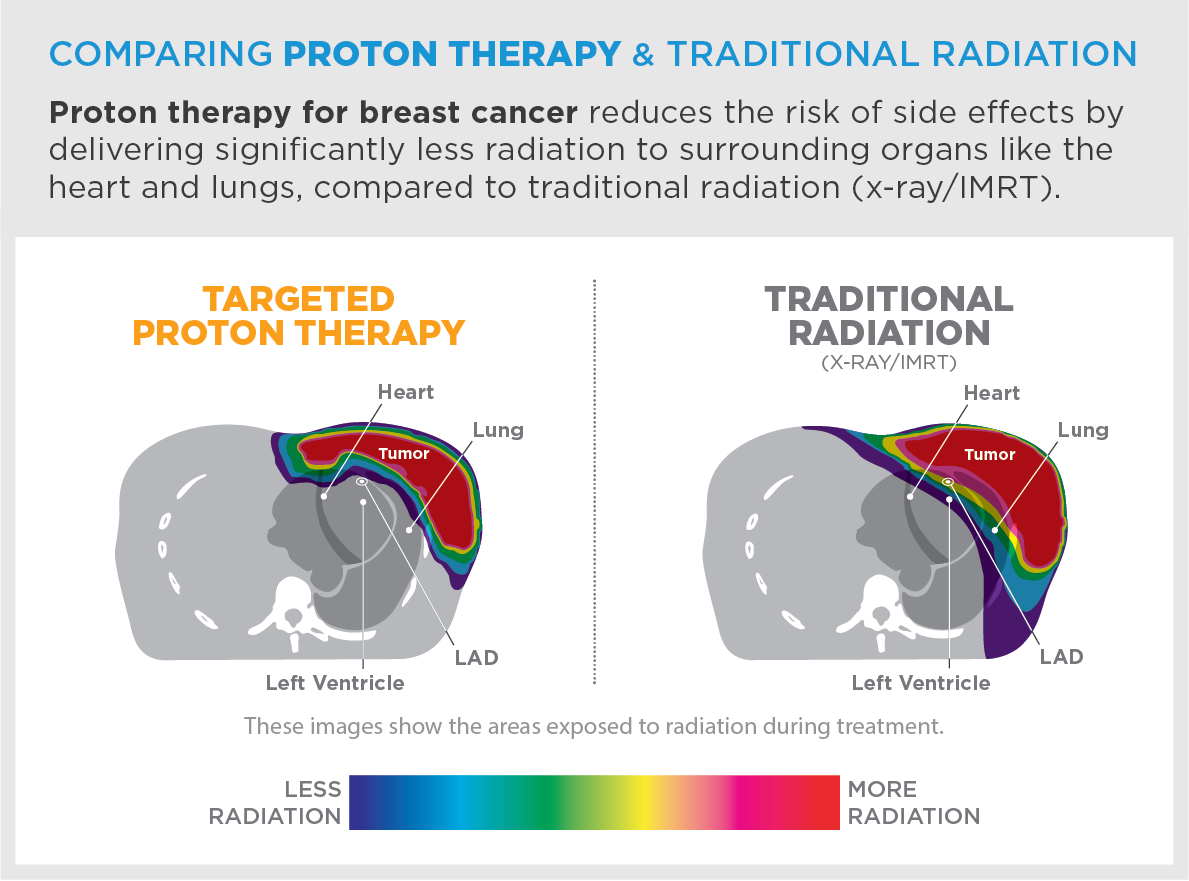 Why Choose Protons Over X-rays?
Proton therapy and traditional radiation are similarly effective when it comes to destroying cancer cells. However, protons have distinct characteristics that allow the radiation beam to precisely target the tumor. This avoids unnecessary radiation to nearby healthy tissue and organs, ultimately reducing the risk of short-term and long-term side effects.
Research shows proton therapy has many clinical benefits compared to traditional radiation therapy.
88% less radiation dose to the heart for left-side breast cancer.1,2
44% reduction in clinically significant radiation doses to the lung.2
90% of partial breast irradiation cases result in good to excellent cosmetic outcomes at 5 years.3
Well tolerated – Less than 4% serious side effects (grade 3) in locally advanced breast cancer.2
How Proton Therapy Works
When protons enter the body, most of their energy is deposited at the targeted tumor and does not continue beyond that target. This unique behavior allows protons to destroy cancer cells while minimizing damage to nearby healthy tissue and critical organs. This is different from traditional radiation, in which x-rays deposit more radiation before their target, then continue delivering radiation beyond the tumor.
The image above shows the difference between protons and x-rays (IMRT). The goal of treatment is to deliver the proper dose of radiation directly to the tumor, while limiting the amount of exposure to surrounding healthy tissue. This is illustrated by the orange area, which represents proton therapy. On the other hand, the gray area shows how x-rays use IMRT to deliver radiation. Much of the healthy tissue in front of the target receives unnecessary radiation, and by the nature of x-rays, more unnecessary radiation is delivered beyond the tumor.
Patient Testimonials
Kimberly K.
``Everybody at Provision was so nice. They are very caring and wonderful people. I would suggest this 1,000 times over traditional radiation.``
Tammy C.
``At Provision, everybody is so friendly. They make sure you understand and make sure you are comfortable. I feel like I gained a whole new family here.``
Felicia L.
``I really liked that proton therapy is more precise and they can control the depth, especially with my heart being there. Protons made me feel like my cancer was truly out of me.``
Jeanette P.
``I didn't know a lot about proton therapy, but after meeting with the doctors at Provision, I was completely sold. I wanted to give myself the best possible chance at a long, full life.``
Only Proton Center in Middle TN
Provision CARES Proton Therapy is less than 25 miles from Nashville International Airport, conveniently located off I-65, near historic downtown Franklin and just a short drive from Nashville's tourist district.
A Partner of Tennessee Oncology
Provision CARES Proton Therapy Nashville partners with Tennessee Oncology to ensure access to the best possible cancer resources and treatment in the region.
Warm Welcome
From the moment you walk through our doors, you'll be greeted at the front desk by our happy and friendly Hospitality Coordinators. They can answer many of your questions and will happily provide hospitality services around the area.
Calming Atmosphere
As you walk into the treatment room for your procedure, you'll be greeted by beautifully large images of the Tennessee landscape to help calm any nerves you have.
Innovative Treatment
Our treatment rooms are designed with your comfort in mind. We use Provision's ProNova SC360, a next-generation proton therapy system built right here in Tennessee.
Comfort and Convenience
We make every effort to create a non-clinical environment whenever possible. Our treatment center has a large, open parking lot – no parking garages or stairways to worry about. Patients can be dropped off right outside the front doors at our covered entryway.
98% Patient Satisfaction
Our 98% Patient Satisfaction scores speak to our excellence in patient experience and our Culture of Care.
Clean and Safe
Our goal is to ensure timely treatment in a safe environment. Our non-hospital setting offers peace of mind for all of our patients.
Patient Concierge
Our Patient Concierge provides personalized care to all patients, including lodging assistance & other needs for traveling patients.
Sources & Studies

1. MacDonald S, Specht M, Isakoff S, et al. Prospective pilot study of proton radiation therapy for invasive carcinoma of the breast following mastectomy in patients with unfavorable anatomy – first reported clinical experience. Int J Radiat Oncol. 2012; 84(Suppl 3):S113-S114. Abstract 281.

2. Moon SH, Shin KH, Kim TH, et al. Dosimetric comparison of four different external beam partial breast irradiation techniques: three-dimensional conformal radiotherapy, intensity-modulated radiotherapy, helical tomotherapy, and proton beam therapy. Radiother Oncol. 2009; 90:66-73.

3. Phase III randomized trial proton vs photon therapy for patients with non-metastatic breast cancer receiving comprehensive nodal radiation: A radiotherapy comparative effectiveness (RADCOMP) Consortium trial. https://clinicaltrials.gov/ct2/show/NCT02603341

4. Cuaron J, Chon B, et al. Early toxicity in patients treated with postoperative proton therapy for locally advanced breast cancer. Int J Radiat Oncol Biol Phys. 2015 Jun 1; 92(2): 284–291.

5. Bush, D, Do S, et al. Partial breast radiation therapy with proton beam: 5-year results with cosmetic outcomes. Int J Radiat Oncol Biol Phys. 2014 Nov 1; 90(3): 501-505.

6. Darby, S, Ewertz M, et al. Risk of ischemic heart disease in women after radiotherapy for breast cancer. N Engl J Med 2013 Mar 14; 368:987-998.

7. Taylor CW, et al. Exposure of the heart in breast cancer radiation therapy: A systematic review of heart doses published during 2003 to 2013. Int J Radiat Oncol Biol Phys. 2015 Nov 15; 93(4):845-53.

8. Lin LL et al. Proton beam versus photon beam dose to the heart and left anterior descending artery for left-sided breast cancer. Acta Oncol. 2015 Jul; 54(7):1032-9.